About the Halfmoon Festival
Experience a 2-day Odyssey: Dive into Koh Phangan's Halfmoon Festival.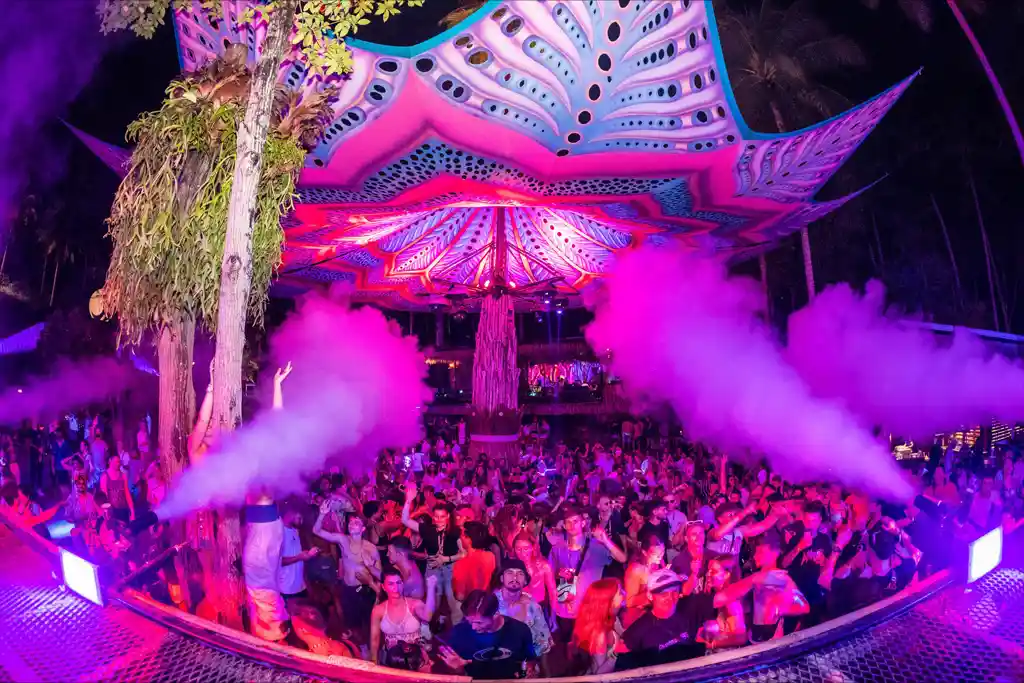 Day 1: Harmony Beach Club Bliss
Nestled on the pristine shores of Ban Tai, the first day of the Halfmoon Festival unfolds at the Harmony Beach Club. This coastal sanctuary becomes a lively hotspot as attendees converge from various corners of the globe. The golden sands and azure waters form the perfect backdrop for a day filled with music, dance, and laughter. Local and international DJs set the tempo, weaving a musical tapestry that ranges from soothing beach vibes to heart-pumping beats. As the sun sets, the horizon painted with hues of orange and purple, attendees can indulge in a variety of flavors, sampling both local Thai delights and international cuisine. The camaraderie is palpable as new friendships are forged, stories are exchanged, and the anticipation for the night ahead begins to build.
Day 2: Jungle Rhythms and Revelry
The magic intensifies as the festival transitions into its second day, taking attendees deep into the heart of the Ban Tai jungle. Here, nature and music meld seamlessly, creating an unparalleled atmosphere of wild abandon and connection. The dense canopy overhead, the sound of nocturnal creatures, and the distant rustling of leaves add to the immersive experience. As torches and lights illuminate winding pathways, festival-goers find themselves dancing on nature's dance floor, surrounded by age-old trees and the symphony of the forest. The music, curated to match this unique setting, ranges from deep house to trance, carrying dancers through the night. Amidst this natural splendor, designated relaxation zones, like the 420 smoke lounges, offer pockets of tranquility where attendees can unwind and connect. As dawn approaches, the energy remains undiminished, culminating in a grand finale as the first rays of sun pierce through the jungle canopy, signaling the close of an unforgettable festival experience.
LINKS
Halfmoon Festival Official Website
Halfmoon Festival Instagram
Halfmoon Festival YouTube Channel
Halfmoon Festival Official Facebook Page
Halfmoon Festival Official Twitter
Where to stay
Milky Bay Resort (Rating 8.3)
BeauBo Beach (Rating 9.0)
Mikasa Beach House (Rating 8.4)
Phangan Beach Resort (Rating 8.1)
Locations & How to get
📍Harmony Beach Club (Day 1): 99, Ban Tai, Koh Phangan, Surat Thani, 84280
🚕 How to get there: Call a taxi (Songteo) from your hotel.
✈️ How to get to Koh Phangan?
📍Halfmoon Festival (Day 2): 72 Ban Tai, Koh Phangan, Surat Thani 84280
🚕 How to get there: Call a taxi (songteo) from your hotel or get by songteo from Ban Tai 7/11.