About the Jungle Experience
Wow, the Jungle Experience Festival on Koh Phangan seems like an incredibly vibrant, immersive, and eclectic gathering that blends music, art, culture, and nature into one phenomenal party! From international DJ sets to live art installations, body painting, fire dancing, Thai boxing displays, and a commitment to safety and eco-consciousness, this festival clearly offers a unique and unforgettable experience for attendees. The lush, jungle setting, complete with a natural mountain stream, UV decorations, and chillout zones, adds to the enchantment, making it a standout event on the island's party calendar. Whether you're dancing the night away to deep house and techno beats, getting a hair tattoo, or watching mesmerizing fire performances, it seems like the Jungle Experience Festival is designed to delight and surprise at every turn. Enjoy your time at the festival and dance safely under the moon! Find out the date of the next party.
The Jungle Experience Festival on Koh Phangan is strategically timed to take place 1-2 days before the Full Moon Party, making it a perfect warm-up for the week's festivities on the island. This scheduling allows party-goers to dive into the Jungle Experience's vibrant atmosphere, with its unique blend of music, art, and culture, before the island's most famous event — the Full Moon Party — kicks off. It's a way for visitors to make the most of their time on Koh Phangan, experiencing multiple facets of the island's lively party scene while they are there. It sounds like a week of non-stop celebration and unforgettable memories!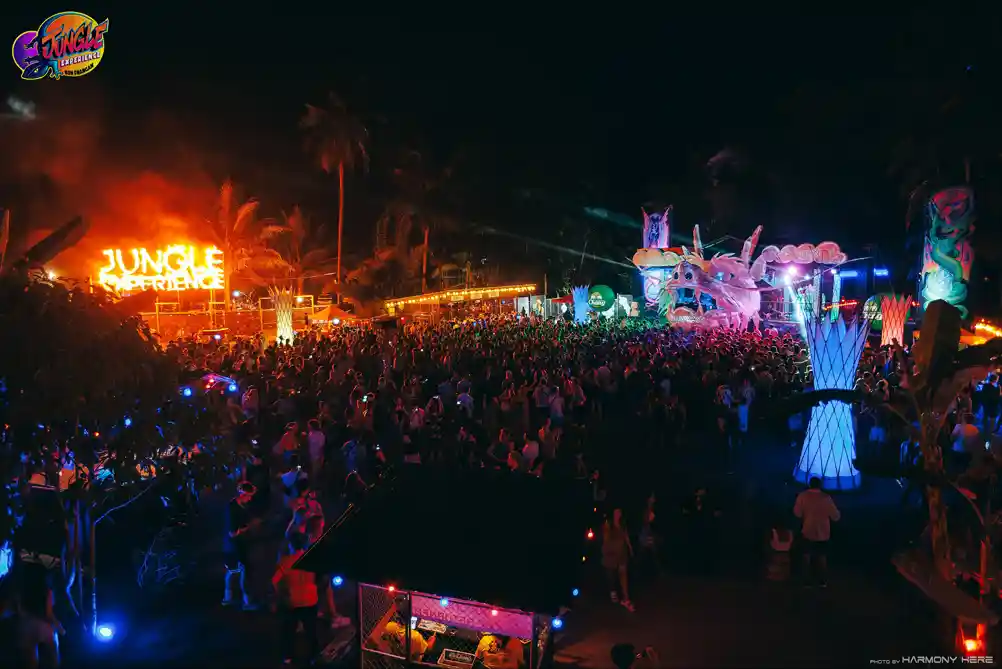 LINKS
Jungle Experience Tickets
Jungle Experience Official Website
Jungle Experience Official Instagram
Jungle Experience Official Facebook
Where to stay
Check out our guide to the top 10 Hotels of this area.
Locations & How to get
📍Jungle Experience: 1 km Behind 7/11 Ban Tai, Koh Phangan, Surat Thani, 84280
🚕 How to get there: Call a taxi (Songteo) from your hotel.
✈️ How to get to Koh Phangan?